TESGO inflatable pump experience, digital display large screen, car wireless dual-use
Speaking of inflatable pumps may not necessarily be equipped with many families, but as a car owner I think most new and old drivers will be equipped with, although these products do not use much, but no is a rather troublesome thing. Recently, I had such an experience, once ready to go out when found that one of the tires almost out of air, but there is no pump on hand for emergencies, and the nearest service station is still several kilometers away from me, I have no choice but to think about replacing the spare tire, but ...... but ... This is a sad story, so after this incident, immediately after returning home to see if there is a pump and other products, I did not expect to find an
inflatable pump
called TESGO on the shelves, TA is not only compact and portable, but also has a digital display and tire pressure monitoring function, but more importantly, in addition to the available DC12V car direct power supply, but also built-in lithium battery support wireless direct charging, this is too convenient, not tangled to take one, by the way, and share with you the experience of this inflatable pump process, old drivers and new drivers may wish to see it!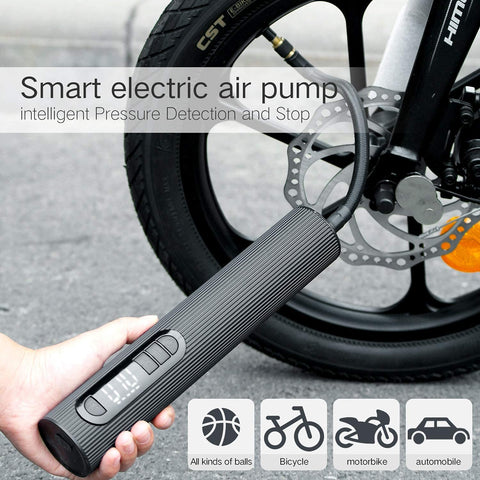 Non-nutritious unboxing will not say much, look directly at the tesgo inflatable pump family photo, in addition to the inflatable pump host, there are portable storage bags, inflatable line, DC12V car direct power supply line, Type-C interface line and three different types of air nozzles.
It is worth mentioning that this inflatable pump is also equipped with LED lighting, which is much more convenient when you need to inflate at night.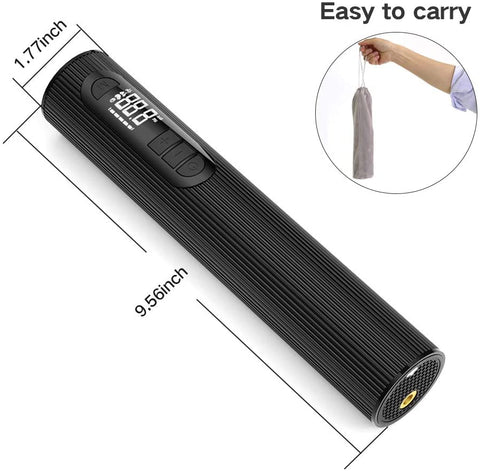 Seriously, if I had not known that this is an inflatable pump, look at the shape alone I thought it was a music player, I can only say that tesgo's designers are too creative. However, in this era of value, a good product is not only practical and useful, beautiful appearance is also an important factor to attract consumers, and I think tesgo inflatable pump to do, say we think it looks good?
tesgo inflatable pump provides four working modes, respectively, car mode, bicycle mode, ball mode and custom mode, the first three for the preset tire pressure charging to stop, intelligent and accurate pressure measurement inflatable, not only efficient work, but also save time, and custom mode can meet more application scenarios, so that the inflatable pump can be used in different products, such as swimming laps, kayaks and other products.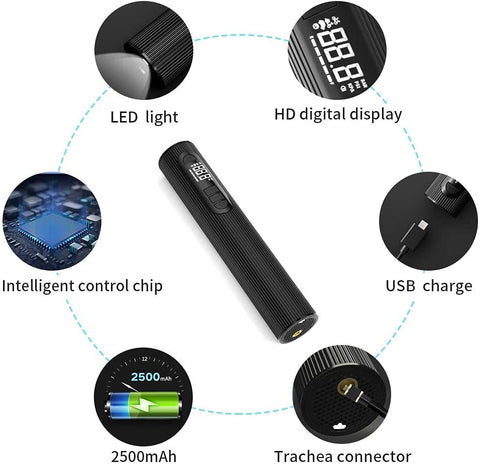 As mentioned earlier tesgo
inflatable pump
can use DC12V for power supply, you can also use the built-in lithium battery, the product is equipped with three sets of 2500mAh lithium batteries, according to the official claim that a full charge can be filled with three empty tires, or can fill 10 car tires, 14 bicycle tires, 57 basketballs, it can be seen that the product battery in the discharge, charging, and standby mechanical loss optimization to do quite well Of course, the actual use of the experience will be shared with you later.
Of course, there is a good battery support in addition to a strong motor is the tesgo inflatable pump stable and powerful work guarantee, the use of permanent magnet direct-drive motor without gear mechanism, direct work completely eliminate energy loss, so that the transmission efficiency of 100%, while stable operation and temperature rise is small, even if the high pressure filling gas is not any problem.
In order to better storage of all objects, tesgo inflatable pump air line and power supply line are separated design, need to be inflated and then installed and used, so is not more convenient compared to the traditional connection of the inflatable pump? This design, not only eliminates the trouble of putting the line to receive the line, storage is faster, of course, is also the gospel of OCD patients, such as me ~ ~ :)
Randomly distributed three different types of interface: an air needle, for ball inflatable use, a French nozzle and American nozzle, for bicycle use, in addition to a Type-C charging cable.
After looking at the product next we talk about the tesgo inflatable pump experience, the installation of the air tube using a wrench switch, the installation method is not a little faster than the threaded interface, in fact, I want to say what age, some inflatable pumps still use a threaded interface, with this wrench switch does not smell?
tesgo inflatable treasure button operation is also very simple, the middle of the small circle is the start button / pause, and the outside of the large circle, the left button for the mode switch, the right button for the unit switch, up and down is the value plus or minus, that is, the freedom to add or reduce the pressure value, such as the above mode car inflatable mode, the need to play the air pressure of 2.5 BAR, if you think it is not enough to add their own, but the inflatable pump is used Intelligent chip control, no human intervention, select the corresponding mode to open. If the battery is suddenly out of power when using the inflatable how to do? Don't worry ~ connected to the DC12V car direct power supply cable switch car charging mode we continue to charge.

Although there are not many friends riding bicycles, but in order to fully demonstrate I still found one to experience, the bicycle will be fully deflated, so the air pressure value is O after connecting the nozzle, and then select the bicycle mode, start inflating, the whole process of inflating about a minute or so to reach 60PSI, the speed gives me the feeling of very fast, and the vibration of the cylinder is not numb hand feeling, the overall Overall, I would like to say that it is very good.

Motorcycle is my highest daily use of transportation, so it is often one of the vehicles that need to be inflated, often always rely on the roadside repair store to replenish, now with this small inflatable pump, you can inflate the motorcycle anytime, anywhere, and with the help of lighting at night no longer have to operate in the dark.
Such products as tesgo inflatable pump, may not usually use the opportunity, but the daily preparation of a home or car is always convenient for the self, tesgo inflatable pump is not only compact, support mode is also very rich, and can also customize the role of adjustment and lighting, so I personally still highly recommended to all new and old drivers, but also to buy one in case of emergency.