The combination of retro and trendy, nostalgic fashion electric bike TESGO CLIMBER
TESGO CLIMBER
is an electric bike brand from Los Angeles, USA. This classically styled electric bike has a modern vibe, with a 1950s retro style with a modern electric motor, mixing and matching for something new.
The handlebars are curved downward, the headlight is shaped and the Brooks saddle is retro. And the body is equipped with an LCD display and a 350W-powered electric motor with a top speed of 34 mph. the original intention of the
TESGO CLIMBER
was to give riders the feeling of a vintage motorcycle ride, with a silent motor that would allow riders to ride gracefully in the city.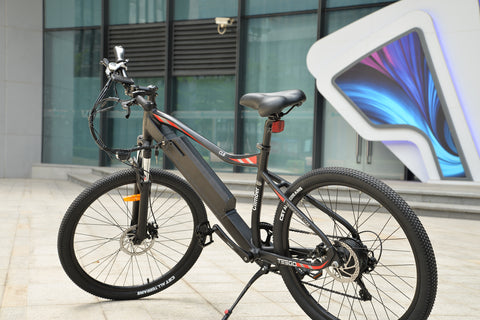 All models of this car are handmade, and riders can make their own personal orders, choosing their favorite colors to match the car, to ensure their "maverick", not to "crash" with others.
The front of the bike has a high-brightness LED headlight for users to use when riding at night. At 15.5 mph on pure electric cruise, the bike can be ridden 26 miles. Of course, it can also be pedaled in the event of a power shortage. The bike weighs 22.65 kg and is acceptable for purely foot-powered riding.

The
TESGO CLIMBER
is retro and beautiful, with all the wires hidden inside the bike and very few open wires exposed, as well as a rain and moisture resistant design. In the middle triangle, there is a switch and a 5V USB port to power smart devices.

The TESGO CLIMBER's battery is hidden in a tube under the seat and can be removed for charging or directly connected to the power supply, bringing great convenience to travel.
The product is developed by the U.S. team, is currently on sale, selling price of $999, able to schedule shipments in real time, if you want to buy an electric bike of your own, you may want to try this one.