The most affordable electric bikes in 2021
Here are my top picks for the most affordable electric bikes in 2021. You can be confident in the functionality of these
e-bikes
. You'll notice that I wasn't too cheap on these winners because I found that the cheapest products don't use reliable or replaceable parts, and they often lack warranties and customer support. The e-bike I chose has a more reliable motor, battery and drivetrain. It's wise to rely on common sense when comparing affordable
e-bikes
; "you get what you pay for" and "if something looks too good to be true, it probably is". These top three choices are summarized below. For more detailed information, including my reasons for choosing each model, please see my complete list of the most affordable electric bikes.
TESGO CLIMBER
MSRP: $999MODEL YEAR: 2020
A full-featured, affordable, comfort-oriented hybrid e-bike with regenerative braking. It has a built-in USB charging port below the display, a modular battery pack that works with all other Rad models of this generation, and an integrated light! The headlight provides a bright 80 lumen center beam and unique LED circle to keep you in sight, while the taillight provides a steady, flashing and bright pattern when braking. Sturdy, adjustable angle handlebar and 350mm long seat post improve fit for range ......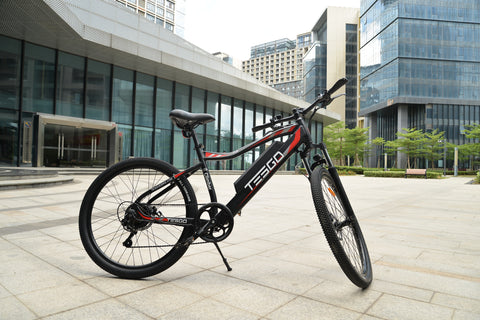 Excellent customer service and an industry-leading five-year comprehensive warranty for superb support! Ships fully assembled and 100% ready to ride on day one. Special emphasis here on charger and battery quality with extra fuses and higher quality parts.
Available in two frame sizes and styles, including a sturdy high-grade diamond and an approachable mid-grade hybrid. Six color schemes let you personalize your bike and stand out, a rarity for inexpensive
e-bikes
. Many optional fenders, racks, baskets, bottles and frame lock attachment points. Surprisingly powerful geared hub motor delivers 50nm of torque. Single-speed drivetrain is quiet and durable.

These are the most affordable electric bikes about 2021, if you also want to have this electric bike, you may want to get it after purchase.