Why an e-bike will help you get back to work in these tough economic times?
In case there is a silver lining to being grinding away while every other person is on vacation, it is that driving is substantially less issue. All over, streets are calmer.
Cycling is as yet the most ideal approach to get from my home in London's Battersea to the Financial Times' workplaces at Southwark Bridge. The train requires 60 minutes, the transport no less than 40 minutes. By bicycle it is under 25 minutes and I raise my pulse enough to tick off my week by week portion of vigorous exercise.
Yet, in these late spring months, there is a high danger of "wet-shirt disorder", which is never a decent look in the workplace.

So when TESGO, the Dutch cycle creator, offered to allow me to test one of its e-bicycles — power-helped cycles — I was enticed, however suspicious. The general purpose of cycling to work is an exercise. Letting an engine take the strain seemed like cheating.
I'm clearly not the only one to feel as such. In northern Europe more e-bicycles are sold than normal cycles. Across the EU, 2016 was a record year for e-bicycles, with deals up 22% on 2015 to more than 1.6m. However, not in the UK. Albeit the market is developing by a comparable sum, it is beginning from a much lower base. On British roads, e-bicycles are still a lot of an extraordinariness.
In any case, for half a month each mid year, London gets adequately hot to make me wish I showed up grinding away somewhat fresher. So I said yes please.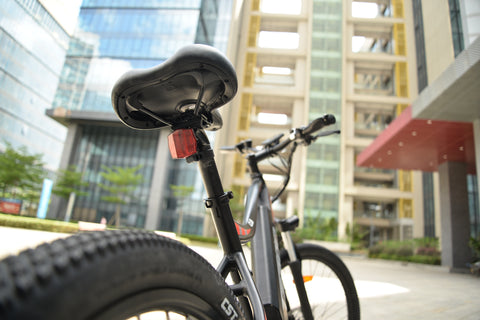 E-bicycles have been around for some time, yet are progressively profiting with similar upgrades in power and more modest batteries as cross breed and electric vehicles. The
TESGO CLIMBER
looks precisely equivalent to my normal bicycle with the exception of a battery pack threw under the back baggage rack — a lump between the pedals lodging a 250w Bosch power engine and a dashboard no greater than a cell phone on the handlebars.
Closer assessment uncovers a catch for controlling the engine on the left handlebar and — dissimilar to my 100% human-fueled TESGO CLIMBER — this one has water driven brakes. It weighs about 3kg more than my standard ride and the battery is professed to be useful for 50 miles.
The engine has four settings: eco, visiting, sport and super. I choose to settle on the least for my first ride on the bustling streets between the City HQ of TESGO's PR organization and the FT. The impact was unpretentious: a delicate yet firm push in the behind as I sped up and surprisingly on the most minimal setting, left vehicles and transports came up more rapidly than I expected and I was happy of the incredible brakes.

It before long turned out to be certain that the engine can tell how much exertion you are placing in and changes its force yield in like manner. The dashboard discloses to you how much.
The lift is most observable pulling away from a standing beginning. At the point when traffic signals practice environmental safety, I shoot up through the eight-speed equips instantly at all and discover I am before long drifting along at 16-17mph with very little exertion, even in headwinds. Over this speed the engine removes, a lawful necessity on UK streets.
By the third day, with a lot of juice left in the battery, I chose to keep the engine set to don, with periodic explosions of super.
My normal speed longer than seven days of driving was 12.6mph, as per the installed PC, not awful in a city where the normal traffic speed during the day is 7.4mph and falling.
Did it remove the perspiration from summer driving? Well I would lie on the off chance that I said I showed up grinding away dry, I was doing a portion of the work, all things considered. In spite of somewhat of a gleam, nonetheless, I certainly was not very clammy in any of some unacceptable spots.
That left me with only one inquiry: is an e-bicycle cheating? The appropriate response is: I couldn't care less. I might have consumed less calories, however I am certain it was balanced by a lift to my endorphins and that is consistently the most ideal approach to begin a day in the workplace whatever the season.